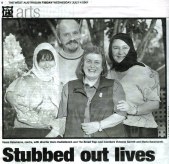 Vivienne Garrett


Vassiliky Kalinys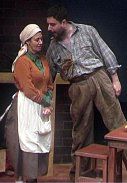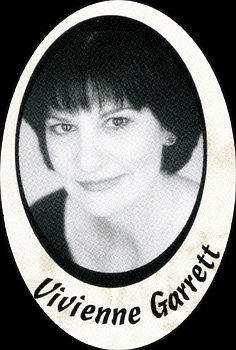 Born in Sydney, Vivienne has been based in Perth, West Australia for the past 16 years where she has been working as a theatre, radio, film and television actor and Theatre Director. She is also a university lecturer with a B.A in Dramatic Arts and has lectured at W.A Academy of Performing Arts, Edith Cowan and Notre Dame Universities and W.A Academy of Dance and Drama.
A graduate of the National Institute of Dramatic Arts (NIDA) Vivienne has worked with most of the major theatre companies in Australia, in over a hundred plays with such luminaries as Robyn Nevin, John Bell, Mel Gibson, Geoffrey Rush, Richard Wherrett, Aubrey Mellor, Nick Enright, George Ogilvie and others.
Vivienne began her career as a teenager in TV, shows like Number 96, Matlock Police, and Homicide etc. Her other TV credits include, Norman Gunston Show, Mother & Son, Bodyline etc. She was a member of Rex Cramphorn's experimental physical theatre troupe 'Performance Syndicate' for many years and an actor with the Nimrod and the Sydney Theatre Company. She has also performed with the Melbourne, South Australian, and West Australian Theatre Company as well as Black Swan, Playbox, Theatre West, Handzon, Deckchair, and other independent production houses. In 1995 she won the 'Swan Gold Award ' for most outstanding female actor for her portrayal of Eleanor in "Dead Funny" for the Perth Theatre Company.
Apart from her extensive work in Sydney before moving to Perth she has appeared in Barron Films TV series, Hay Daze and Ship to Shore, with her most recent leading role in the ABC/Scottish TV series Minty. Vivienne has played Miranda and Ariel in The Tempest, Celia in As You Like It, Leye in The Dybukk, Marlene in Top Girls, Kel in Burning Time to name a few. In 2003 Vivienne directed Breast Stroke for Handzon Theatre a play she devised and directed for stage and adapted for ABC radio national.
Breast Stroke was invited to the Magdalena International Women in Contemporary theatre Festival in Brisbane 2003. Vivienne appeared in the Vagina Monologues for the Perth Theatre Co. and has starred in two one-woman shows 'Death of Minnie' for the Hole in the Wall and 'Witchplay' which she produced herself. Vivienne has just returned from Sydney where she played J.S the central role in the new Eve Ensler play about refugees "Necessary Targets".
Alexandria - Acting on the brighter future for the professional arts in Australia